June 9th 2017 Edition // Lingerie Sewing – Weekend Roundup
Welcome to the June 9th, 2017 edition of Lingerie Sewing: Weekend Round Up!
The Lingerie Sewing: Weekend Roundup is a curation of a few projects/ongoing events in the lingerie making community. It's a quick catch up for you to enjoy over the weekend with a cup of coffee or tea. If you want to be part of the weekend roundup, shoot me an email at thetailormadeblog[@]gmail.com with links to your instagram, blog post, or just photos if you don't have a blog and I'll be sure to include your work!

Projects & Makes
I did a pattern review of the newly released Jamie Bra & Panties Pattern by Evie la Luve. You can check out the pattern review and the three versions that I made here.
Tips & Tutorials
Sofia has a nifty half cup bra tutorial for you guys! By the way, if you have the Harriet Bra Pattern, you can achieve the same look without doing any pattern hacking. You can just not cut out the lace upper cup and sew up the bra as is!
News & Events
New Body Suit Pattern: Ohhh Lulu Sews Anouk Bodysuit
Sarah of Ohhh Lulu Sews just released a bodysuit pattern this week! The Anouk Bodysuit comes with two neckline variations: a simple v-neck and a ballet-inspired faux wrap front. It features subtle bust shaping, supportive under-bust elastic and a sexy scooped back. You can purchase the Anouk Bodysuit here.
New Body Suit & Bra & Panties Pattern: Evie la Luve Jamie Pattern
Here's another pattern release from this week! Evie la Luve just released the long awaited (well at least for me) Jamie Pattern! There are two views included in the pattern. You can make a body suit or you can make a bra and panties set. I've written a review of the pattern here. (Spoiler alert: It's an awesome pattern!) You can purchase the pattern here.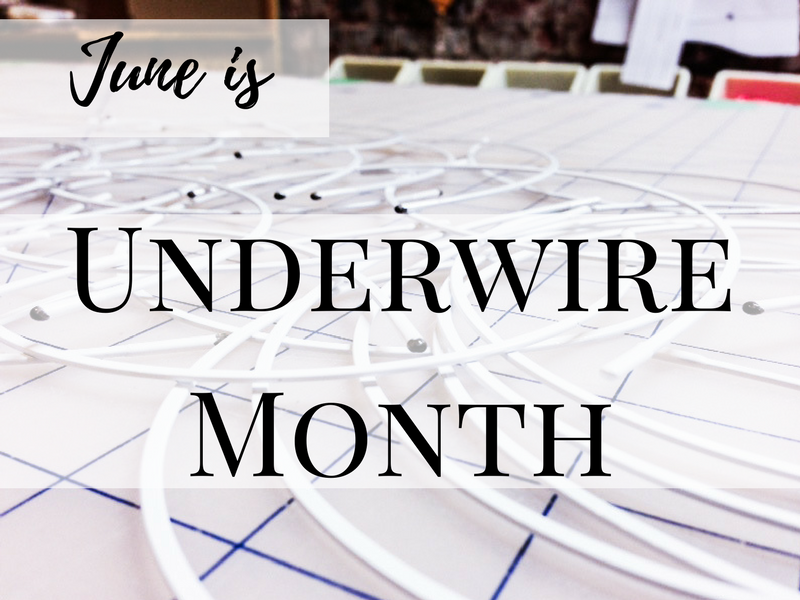 June is Underwire Month Over at Emerald Erin!
Do you have burning questions about underwires? Well Erin is here to answer all your questions on underwires. Hop over to her blog and ask away!
That's it for this week. Have a great weekend everyone.